Poetry In Afrikaans: Poems About Animals And Insects
One of the great things about learning Afrikaans is that you get to enjoy a wide variety of Afrikaans poetry. This type of literature can be a great way to improve your understanding of the language and learn new words and phrases.
Poetry is a difficult thing to translate, so it's often not available in other languages. For this reason, if you're learning Afrikaans, it's definitely worth taking the time to read some Afrikaans-language poetry.
It should be noted, however, that in addition to being hard to translate, poetry is also one of the most difficult things for new learners to understand. This is because poetry often uses language in creative and figurative ways that can be difficult to parse.
That's why we've put together this selection of 9 Afrikaans poems about animals and insects, as they contain simpler vocabulary, grammar and concepts, making them much more suitable for beginners.
The first 4 poems are from a larger anthology of poetry called Digters uit Suid-Afrika: Bloemlesing uit die poësie van die Twede Afrikaanse -Taalbeweging, published in 1922 and available in the public domain.
The next set of 5 poems are our original poems, thus not in the public domain. We've also included rough translations for these.
4 Afrikaans Poems about Animals and Insects
| English | Afrikaans |
| --- | --- |
| Poetry | Poësie |
| Poems | Gedigte |

Wag-Hondjies

(Little Watchdogs)

–

by Jan Fe Celliers



Ek is hier, en ma is hier,
ons twee lê op baas se baadjie.
Wie is jy?
Kom, loop verby!
Anders word ons knor 'n daadjie—
kry jou bene dalk 'n hap,
kry jou broekspyp dalk 'n gaatjie!
Mooipraat? Nee, ons ken jou nie.
Weg jou hand, en raak ons nie!
_____________
"Oppas!" het die baas gesê,
"tot ek weer kom, hier bly lê!"
Op ons pootjies lê ons kop,
maar ons hou jou darem dop,
toe-oog slaap ons op die baadjie,
maar ons loer nog deur 'n gaatjie—
één oor plat, en één oor op,
pas-op!
---

Die Os (

The Ox)

–

by Totius (Dr. JD Du Toit)

Hoe rustig stap hy aan
die edel jukgediert!
hoe waggel hy die kop
met horings swaar gesierd
en stewig ingestrop!
_____________
Hoe rustig stap hy aan
so sonder tuiggetooi,
met matte dowwe plof;
sy vel trek plooi op plooi
rondom die breë skof.
_____________
So stap hy rustig aan
vol kalme majesteit
en ongesmukte prag—
beeld van stilswyendheid
ên selfbewuste krag.
_____________
Steeds stap hy rustig aan
met rustelose drang,
by kou en sonnegloed;
maar snags versnel sy gang
om dagversuim te boet.
_____________
Nog stap hy rustig aan
as dae kommervol
laat bleek en krul sy gras;
hy skeer die hardste pol
en suip die modderplas.
_____________
Stap, stap dan rustig aan
en deel die trekkerslot;
die skaarste en owervloed,
daar in die land, waar God
ook is vir osse goed!
---

Die Verkleurmannetjie (

The Chameleon) –

by Dr. C. Louis Leipoldt

Daar op die vyeboom sit die vabond,
So sedig as 'n predikant;
Maar glo tog nie dat hy so vroom is:
Nee, regtig nie, hy is astrant!
_____________
As jy hom aanraak, dan verkleur hy:
Geel, rooi, grys, bruin en blou en groen;
En sy hele vel blink soos die skulpies
Se binnekant met perlemoen.
_____________
So teemrig sit hy op sy takkie
Die muggies met sy tong te vang,
En met sy ronde oë maak hy
Die spinnekoppe algar bang.
_____________
Hy draai sy nek soos 'n toktokkie,
Of soos 'n papie uit die klei,
En kyk so sedig na die vliegies
As hy die goed nie beet kan kry.
_____________
Arrie, ek hou van jou, kleurklasie!
Jy gaan jou lewe deur so mooi,
Jy steur jou nie aan wat die mense
So praat of skinder en flikflooi.
_____________
Jy steun op niemand nie, kleurklasie,
Net op jou takkie en jou tong:
Verkleur maar môre net soos gister,
En as jy oud word, bly nog jong!
---

Die Mot en Die Kers (

The Moth and the Candle)

–

by Adv. CJ Langenhoven

Die ander motte was dom en dwaas,
Maar ek sal vèr van die kers af bly;
Hier vèr uit die skemerte sal ek kyk,
Hier vèr is dit veilig en kyk is vry.
_____________
Maar ek hoef nie van éenkant net te kyk—
Ek vlieg op dieselfde afstand om,
Dan weet ek van àl-kant hoe hy lyk—
Om beter te sorg om nie nader te kom.
_____________
My sirkel was skeef en ingebuig,
Maar dáar ook nog, waar ek naaste was,
Het daar niks gebeur—ek maak verniet
My velling so groot en so vèr van die as.
_____________
Die wieletjie draai àl vinniger om,
En die lig en die gloed word àl groter genot:
En die vellings word nouer àl rondom die as—
En die end van die wiel is die as van die mot!
---
5 Original Afrikaans Poems about Animals

Zebra – by Pieter Horn
Afrikaans
English
Met jou pajama jas aan
Wit op swart
Swart op wit
Hardloop jy in 'n trop saam.

Gallop jy soos 'n perd
Selfs 'n gekleurde stert.
Van vroeg tot laat
In jou pajama gewaad.

Die perd van die veld
Niemand wed op hom met geld.
Sien hy leeu se kind
Is jy nêrens te vind.
With your pajama coat on
White on black
Black on white
Run together in a herd.

Galloping like a horse
Even with a colored tail.
From early till late
In your pajama coat.

The horse of the wild
Nobody bet money on him
Does he see a lion's child
Is he nowhere to be found.
---
Olifant (Elephant) – by Pieter Horn
Afrikaans
English
Olifant, o olifant,
Jou grote dier.
Met ivoor vir tand
En krag soos 'n stier.

Met 'n stert van voor
En 'n stert van agter
En twee stukke ivoor
Kan jy met hom toor.

Vir niemand is hy bang
Selfs al probeer jy hom vang.
Vir hom moet jy pasop
Anders is jy nou-nou in die sop.
Elephant, oh elephant,
You big old animal.
With ivory for teeth
And power like an ox.

With a tail in front
And a tail at the back
And two pieces ivory
You can cast a spell.

He is scared of no one
Even if you try to catch him
You must be careful of him
Otherwise you'll see be in trouble.
---
Leeu (Lion) – by Pieter Horn
Afrikaans
English
Leeu, Leeu
Waar is jy?
Ek het in die gras verskyn
Maar gou het al die diere verdwyn.

Koning van die diere
Diere vlug soos miere
Brul ek oor die bosveld
Laat ek my stem vergeld.

Magtig en sterk is ek
Rooibok se kind in my bek
Lui-lui raak ek aan die slaap
Lekker aan die gaap
Lion, Lion
Where are you?
I appeared in the grass
But soon all the animals disappear.

King of the animals
Animals run away like ants
I roar across the forest
I let my voice be heard.

Mighty and strong am I
Impala's child in my mouth
Lazy lazy I go to sleep
Nice to yawn.
---
Jakkals (Fox) – by Pieter Horn
Afrikaans
English
Ek het rooi hare
En slaap in die blare
Met mi kos
Diep vêr in die bos.

Jy sien my net in die aand
Wanneer almal slaap
Onder die helder maan
Steel ek vir my 'n skaap.

Mense het my nie lief
Want hulle sê ek is 'n dief
Met 'n lang stert
Soek ek 'n hoender se vlerk.
I have red hair
And sleep in leaves
With little food
Deep, far in the woods.

You see me only at night
When everyone sleeps
Beneath the bright moon
I steal a sheep for myself.

People don't love me
'Cause they say I'm a thief
With a long tail
I seek a chicken wing.
---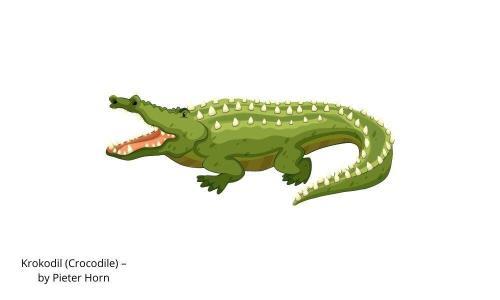 Krokodil (Crocodile) – by Pieter Horn
Afrikaans
English
Jy lê tog so stil
Met 'n goeie wil
Maak jy my gril
En dan wil ek gil.

Jy laat my dink aan 'n stomp
Maar dan sien ek jy is te lomp
Soms is daar 'n klomp
Daar onder by die pomp.

Jy oë is tog so klein
Maar sien tog so fyn
Jou lyf lyk so grof
Maar jy doen alles rof.
You lie so still
With good will
You make me chill
And then I want to yell.

You make me think of a tree
But then I see you are clumsy
Sometimes there is a lot
There beneath the pump.

Your eyes are so small
But see so fine
Your body looks so course
But you do everything so rough.
---
Wanna learn some animal names in Afrikaans? Take our fun Animals in Afrikaans quiz and learn 30 animals! Or play our Animal Clues: Afrikaans Edition game to test your reading and listening comprehension.